Chevrolet Electric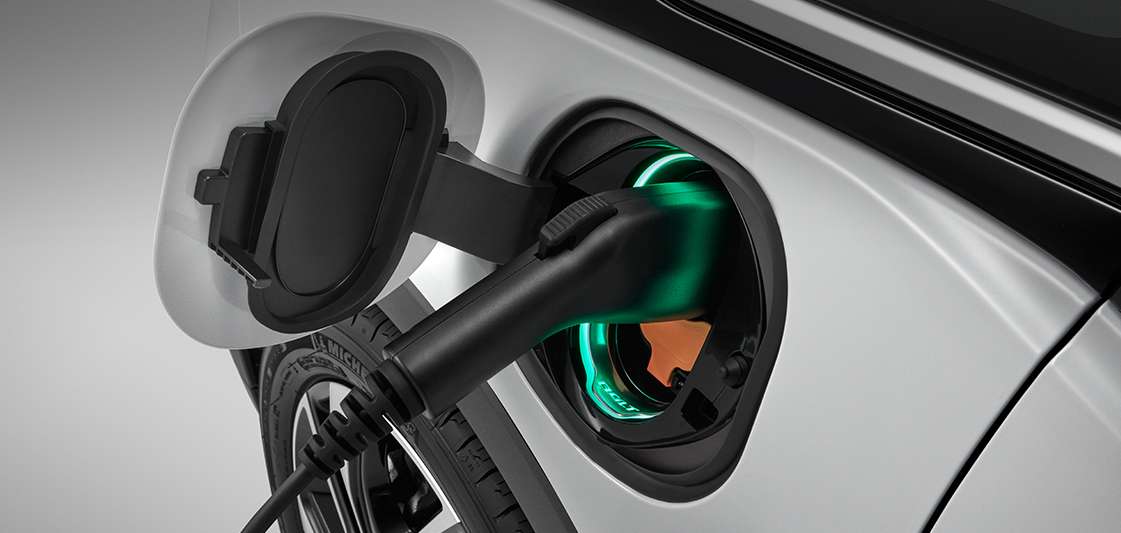 Powered by ingenuity
The dream of an electric future is more than just technology — it's about having the desire, inspiration and innovation to build a better tomorrow. Introducing our all-electric lineup, the new 2022 Bolt EUV and redesigned Bolt EV. Our electric future is here.
Redesigned 2022
BOLT EV
New energy for your everyday drive.
Its fresh, new exterior will grab your attention from the start. But it's the long range1, convenient charging options and low maintenance that renew your enthusiasm for the everyday commute. Add in first-rate tech, comfortable seating and smooth handling, and you'll see how the redesigned Bolt EV brings a whole new vibe to the road.
All-New 2022
BOLT EUV
Welcome to the electric future.
What does an all-electric future look like? It looks sleek, with bold styling that gives way to a roomy, refined interior. It looks bright, with an illuminated charge port for convenience and flair. The all-electric future looks like the New Bolt EUV. And it's here today.
The Electric Future of Chevrolet
ELECTRIFYING CHEVROLET, ONE VEHICLE AT A TIME.
We showed the world how simple and smart owning an electric vehicle can be — but that was just the beginning. With GM's Ultium * platform and Ultifi * technologies to power most of our vehicles, we're heading towards an all-electric future. We want you in the passenger seat with us for all the innovations, announcements, and reveals as we create some of the most exciting and advanced vehicles in Chevrolet history.
THE FIRST-EVER ALL-ELECTRIC BLAZER EV
Charge up, charge off and turn heads along the way.

Bold, futuristic design. An available GM-estimated range of up to 320 miles on a full charge * . Responsive acceleration of 0-60 in under 4 seconds ** enabled by Wide Open Watts performance mode on SS. That's the First-Ever All-Electric Blazer EV. Available starting Summer 2023.
Important Information
* GM estimated range is based on current capability of analytical projection consistent with SAE J1634 revision 2017-MCT. GM estimated range is based on a vehicle with a full charge. Actual range will vary based on several factors, including temperature, terrain, battery age, loading, use and how you use and maintain your vehicle. Performance targets. Estimates and capability specifications based on computer-aided analysis and simulation using virtual engineering tools. EPA estimates not yet available. ** Based on initial vehicle movement. Preproduction model shown. Actual production model will vary. Blazer EV available starting Summer 2023. SS shown, available Fall 2023.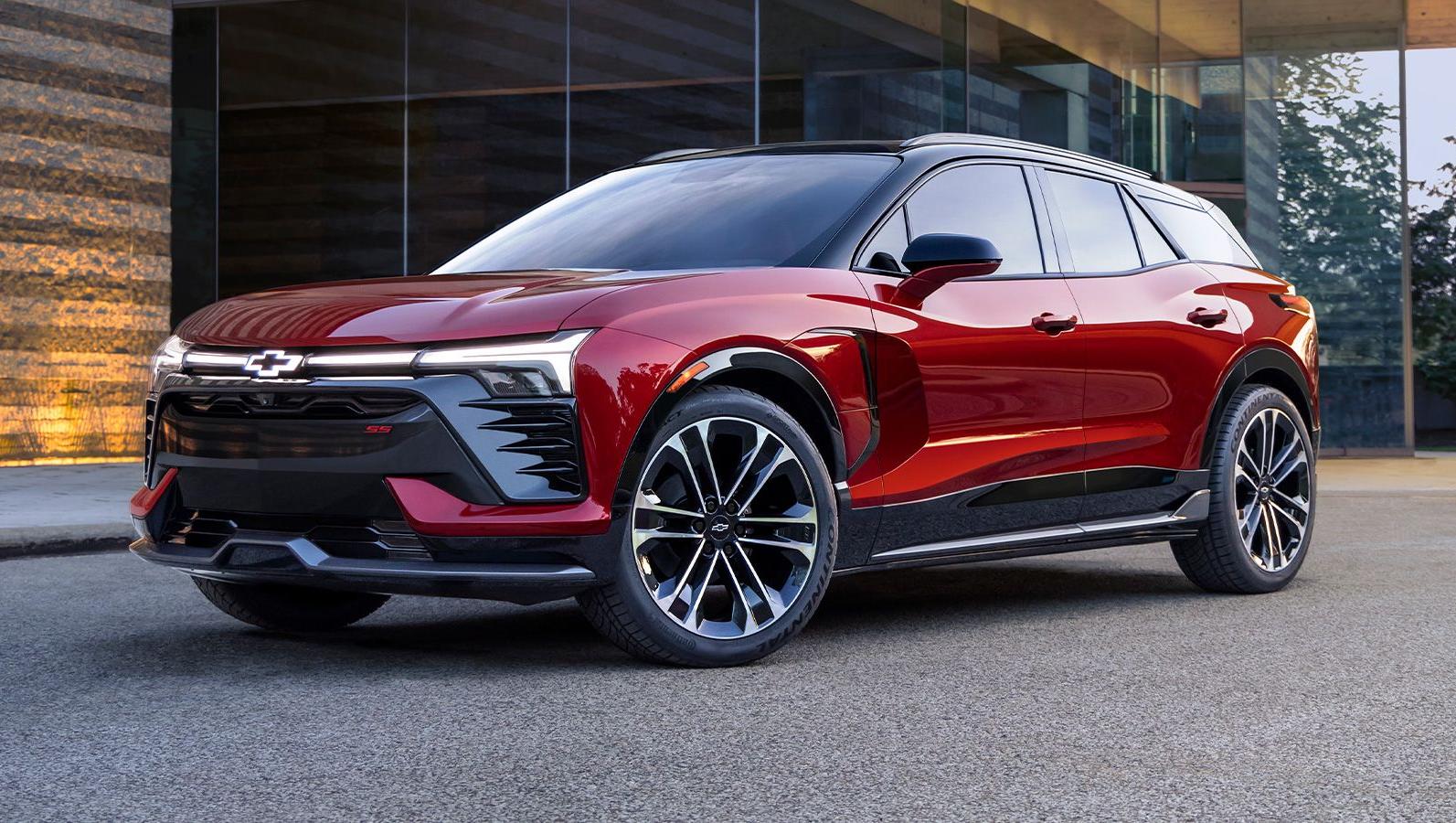 THE FIRST-EVER ALL-ELECTRIC EQUINOX
Chevy's top-selling SUV changes the game with the First-Ever All-Electric Equinox — featuring a sleek new design and walk-up lighting that invites you to explore places you've never been. Equinox EV LT starting MSRP * around $30,000. LT availability will be announced at a later date. RS available Fall 2023; pricing to be announced at a later date. More info coming soon.
Important Information
* The Manufacturer's Suggested Retail Price includes destination freight charge. Tax, title, license, dealer fees and optional equipment not included.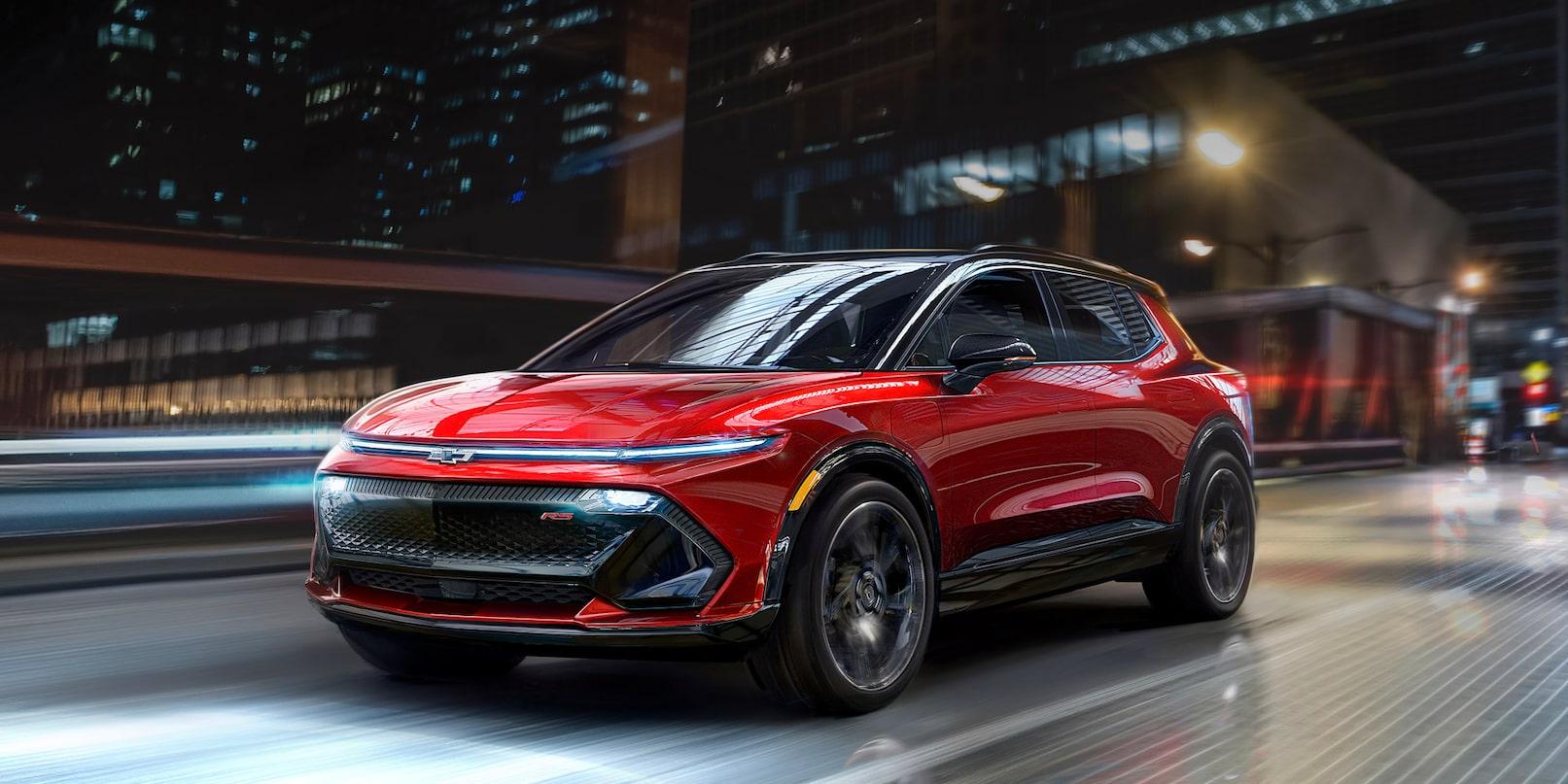 The First-Ever All-Electric Silverado
CHARGE UP YOUR IMAGINATION.

Even with all the "new", Silverado EV is living up to the Silverado reputation. Charge ahead to check out this game-changing all-electric truck and reserve * yours today. Available Fall 2023.
Important Information
* Actual reservation model will vary. At participating dealers. Limitations apply. Reservation does not guarantee vehicle delivery within any certain time. ** Shown simulated vehicle. Actual production model will vary. Available Fall 2023.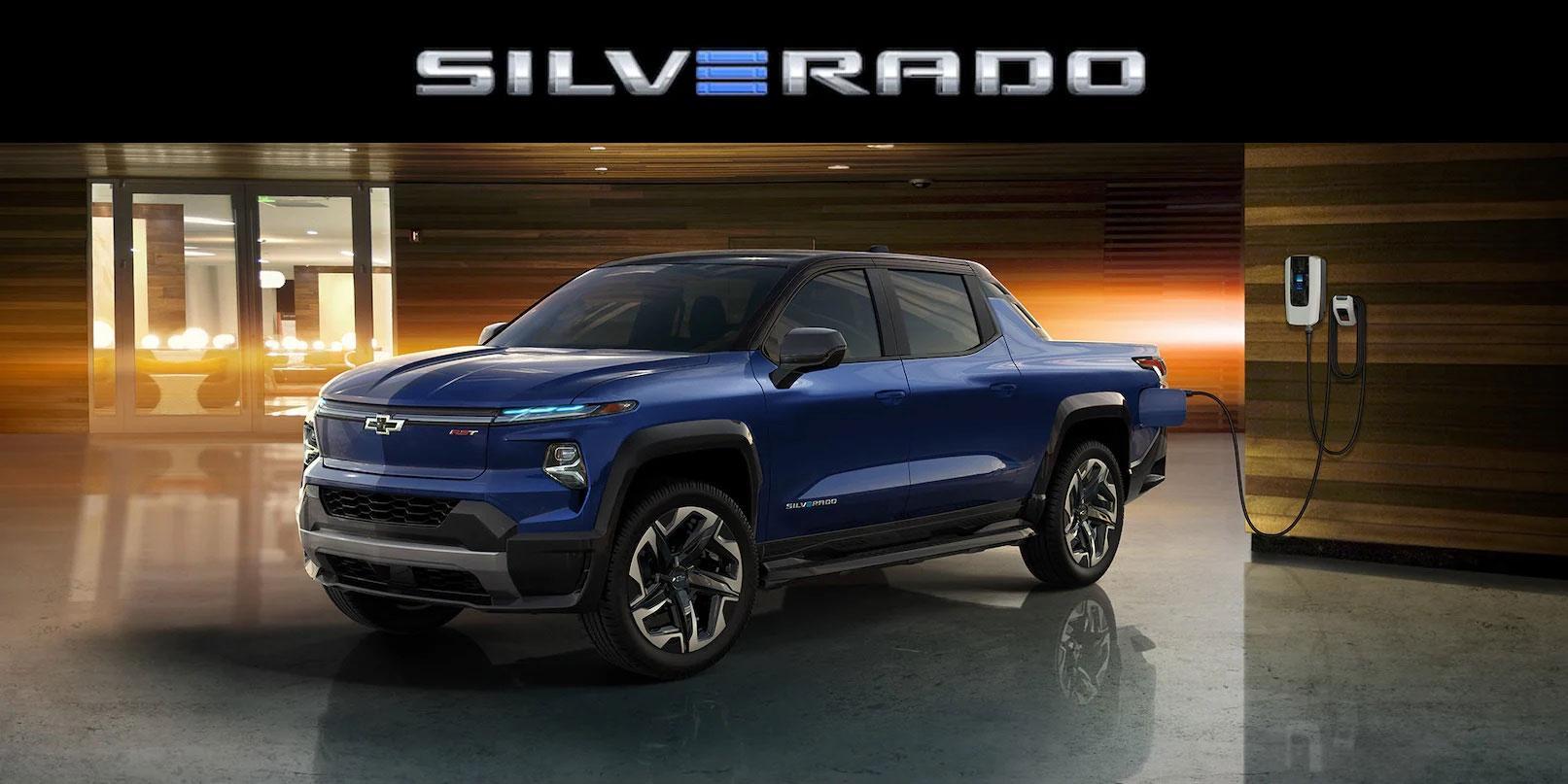 Charging is so simple, it will fit seamlessly into your routine, like plugging in your cell phone. A standard Dual Level Charge Cord features a changeable plug, giving you a choice between level 1 and level 2 charging. And with an available illuminated charge port, you can light up where you plug in for added convenience and style.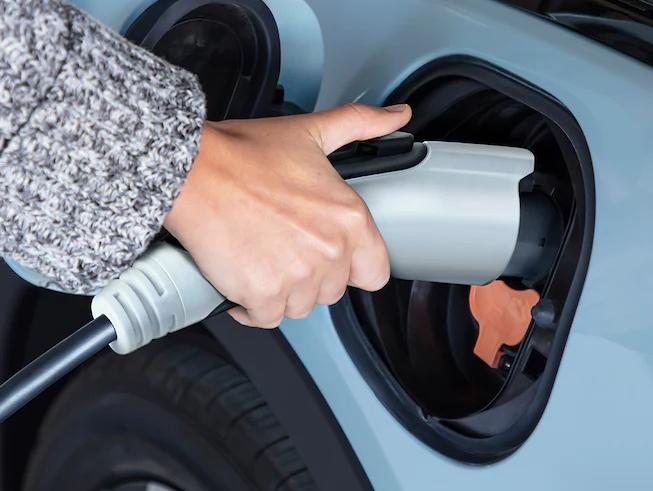 A simply smart way to drive.
When you make the switch to one of our electric vehicles, you get so much more than a new car. You get a fun and responsive all-electric vehicle that offers the perks of driving a Chevrolet along with less maintenance, more ways to "refuel" and innovative ways to make living electric easier than ever.


TAKE THE HOV LANE
Save time on your commute by taking the High Occupancy Vehicle lane in select states.
ZERO TAILPIPE EMISSIONS
No fuel to burn means you're driving cleaner.

STATE TAX INCENTIVES
Buying an EV could qualify you for state tax incentives.

MORE MULTITASKING
Charge up while you shop, sleep, work or do whatever else you want to do with your time.

CHEVROLET COMPLETE CARE
Covers your battery and specific electric drive components for 8 years or 100,000 miles, whichever comes first.

EXTENDED COURTESY TRANSPORTATION
Complete Care covers Courtesy Transportation for 8 years or 100,000 miles, whichever comes first, for covered warranty repairs.

UTILITY INCENTIVES
Installing a home charger may qualify you for local utility incentives.

MORE FUN!
Instant torque means more get-up-and-go.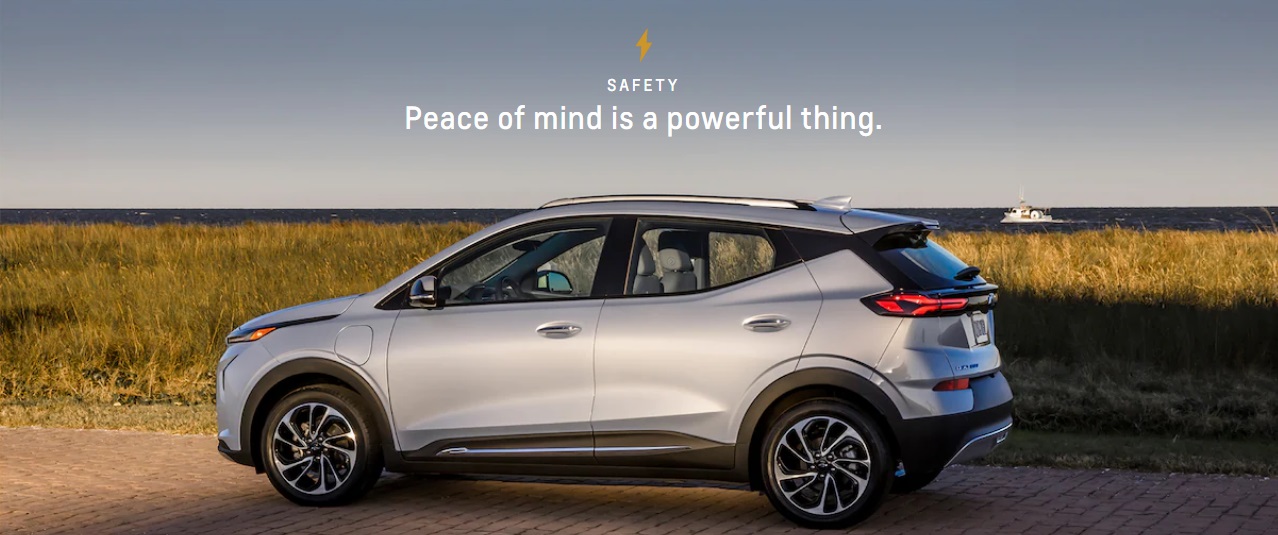 Both Bolt EV and Bolt EUV feature standard Chevy Safety Assist – a suite of six of our most advanced safety features designed to let you go confidently ahead.






Safety or driver assistance features are no substitute for the driver's responsibility to operate the vehicle in a safe manner. The driver should remain attentive to traffic, surroundings and road conditions at all times. Visibility, weather and road conditions may affect feature performance. Read the vehicle Owner's Manual for more important feature limitations and information.